Corporate Wellness at Advantage Chiropractic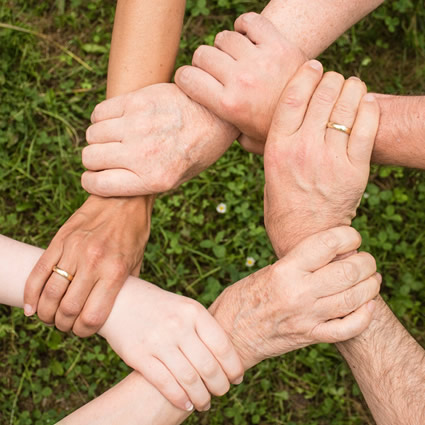 While people often come to our office to seek treatment for an injury or problem, we don't just treat the symptom, we look for the underlying cause of the symptom. Often times, many people's symptoms can be traced back to everyday work and living. How you sit, sleep, work, and lift are all reasons that eventually can cause the body to break down and become symptomatic. Our goal is to not only help people in need but to educate them to avoid further problems once they resume their daily tasks.
Giving Back to the Community
What you eat, drink, and think. How you move. These are all critical components of the wellness puzzle. Whether you're seeking to incorporate more movement into your day, add more veggies into your diet or subtract stress from your workday, we are here as a resource for you. "Donna, my wife, likes the saying, 'when the student is ready, the teacher will appear,'" said Dr. Mark, who loves educating the community about wellness topics.
"Donna and I have given hundreds of workshops to local schools, non-profits, and various civic and business organizations. There is a great need for education about wellness, so we are delighted to able to provide valuable information to the community. It's our way of giving back," he added.
Our Current Workshops
Keynote Speaking
Our educators are passionate about helping individuals lead healthier lives. Please contact us to discuss your options for one of our keynote speakers. Together we can modify the exact program that fits your needs.
---
Health Fair Screenings
Don't forget us when planning for your next employee health fair. We offer a variety of fun and interactive screening options, perfect for any events! From master nerve system scans using the latest state-of-the-art technology, to posture screenings, we let individuals view their health from the outside looking in. We can help your team understand the keys to health and increased productivity.
---
Ergonomics 101
With the increased use of computers and mobile devices, awareness about proper posture is essential to avoid chronic issues of neck/back tension, headaches, and many other health issues. In this workshop, we will not only discuss why better posture is important, but we will talk about simple changes people can make to better their long- term health. Proper posture can lead to better productivity. Check out these posture tips for kids and these tips for adults.
---
Nutrition & Professionalism
Does it matter? Does what you eat fuel you for your day? Does it help you make the right decisions? Can your client tell? You bet they can! How can you be more productive, more on task, and more alive by choosing the right meals throughout the day? Take an hour to find out! Watch Posture Tips
---
Postural Assessments & Recommendations
As our care is always customized, never cookie-cutter, we provide postural assessments and recommendations based on patients' particular needs. For example, we work with a welding company in St. Cloud and Dr. Mark provides posture tips to meet the unique needs of welders. He's also given tips to truck drivers as they have periods of prolonged sitting.
Kids also can develop posture problems due to all the time they spend on mobile devices, laptops, smartphones and iPads. Dr. Mark can provide parents and their children with recommendations on how to use their devices while maintaining proper posture.
---
Label Reading 101
Stop the madness! Have the labels on the food we eat made us more educated or more confused? Come and get unstuck! Bring notepaper! This one hour is packed with info!
Caring for the Caregiver
Aren't we all teapots, pouring ourselves into others all day long? How do you refill your teapot? Take some time for yourself to learn how to rebuild and refuel to keep doing what you love-giving.
---
Get a Grip on Stress
While it's true that stress is a result of change, one common misconception is that stress is always a result of a negative shift in our environment. Not only can stress result from positive occurrences in our lives, but both positive and negative stress affect our overall health in a variety of ways. Stress is all around us. Learn tips for managing stress and minimize its negative effects on the body.
---
Get Fit While Your Sit
The computer age has found us spending more time on our keyboards. Prolonged postures and repetitive movements lead to a variety of symptoms such as eye-strain and headaches, shoulder pain and carpal tunnel syndrome, back pain, and sciatica, just to name a few. There is no need to work in pain! Follow these common-sense strategies to relieve pain and safeguard your health for years to come.
Here are some stretches you can do too to keep your back feeling great.
---
Take 5 Stress Break!
Help employees reduce tension by enjoying a 5-minute pressure point massage while learning more about their health. Using the latest state-of-the-art technology, we conduct a scan of the nervous system and provide the results to the participants on the spot.
We can answer their health-related questions and offer suggestions to increase their performance at home and on the job! A great way to recognize your hard-working team!
---
Back Safety Workshop
Studies show that when employees are properly educated, spinal injuries and the average cost of those injuries decrease. Back injuries are one of the most expensive injuries for companies. Take steps to prevent injuries and the expense that goes along with them. Your bottom line will benefit and your employees will thank you. NOTE: The workshop can be easily customized to nearly any position at your workplace.
Virtual Workshops Available
If you would like to attend a workshop, call (320) 251-1080 today! We do offer workshops via Zoom for employees not able to attend or if you have multiple locations. If you have 50-100 employees in your office, we also can provide webinars.

Corporate Wellness St. Cloud, Waite Park, and Sauk Rapids MN | (320) 251-1080