Chiropractic Care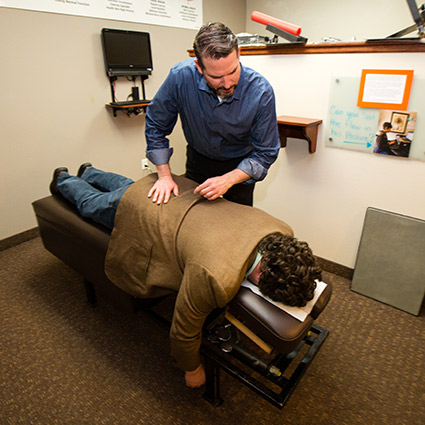 At Advantage Chiropractic, Dr. Mark is focused on helping your body to function at a higher level by removing interference in the nervous system called subluxation. The stresses of life are countless in today's society, and they add up to have devastating effects on the nervous system. By removing any interference present, you can see results such as better sleep, greater energy, less stress and tension and improved digestion — the list goes on and on!
The Formula for a Successful Recovery
The ingredients to our patients' success aren't just Dr. Mark's years of experience in helping the nervous system function at its highest capacity. It's also due to our loving, caring team and their tireless efforts to assist you in any way possible. Additionally, we work to educate you on what you can do outside of your visits with us to enjoy incredible well-being.
Dr. Mark has developed his combination of techniques using both manual and instrument-based methods. A gentler touch is used for our youngest patients. We may recommend physiotherapy modalities such as wobble chairs, massage chairs, electric muscle stimulation, hot and cold packs or cervical traction to aid in your healing.
How Will You Know What to Adjust?
We take our time to understand what your body needs so that you can reap the many benefits of chiropractic care. We'll go through your health history, do a thorough exam, take computerized scans of your nervous system health and X-rays if needed. Then, we can make a game plan for your care, knowing exactly what to adjust and how to do so, freeing up nerve flow. Rest assured, that precise care is always provided. We're happy to start with a gentler touch or adjusting instruments if you'd prefer.
Discover Natural Pain Relief
Shovelling snow, slipping on a sidewalk, experiencing a fender bender, spending hours a day on your digital devices. All of these and more can lead to back and neck pain, as well as sciatica. With our natural and effective chiropractic care, we get to the root cause of your pain, and through the chiropractic adjustment relieve it. Best of all, chiropractic is completely safe with no associated side effects.
Schedule your appointment with our caring, helpful team today!
CONTACT US »

Chiropractic Care | (320) 251-1080