New Patients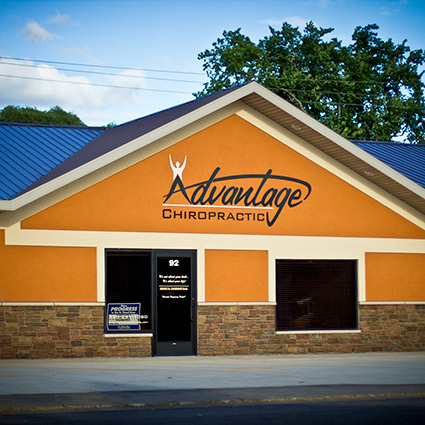 Advantage Chiropractic is a laid-back, comfortable place with a bright and fun atmosphere. We enjoy laughing and having fun with our patients and provide excellent care in a modern, beautiful facility. You're welcome to schedule an appointment for yourself or your entire family to come in together.
Your First Visit
When you arrive, you'll fill out some short forms. You'll then meet with Dr. Mark to talk about your health history and current concerns. We'll perform an examination of your spine and nervous system including scans taken with the Insight™ Subluxation Station, which takes objective measurements. X-ray facilities are available on-site. We'll then schedule a follow-up. This appointment takes 45-60 minutes.
Your Second Visit
Dr. Mark will have prepared a packet for you that shows a full report of findings, including the scans taken with the Insight Subluxation Station and other relevant information. We'll review your X-rays with you and go over the computerized nerve scans. You'll then find out about your options for care and choose how to move forward based on your goals. We'll also go through your financial information and any insurance coverage that may support you with your care. Please plan on spending 45-60 minutes with us at this appointment.
Returning for Care
We usually recommend that you have more frequent visits when you begin care. Then, the frequency will drop down based on what your goals are. Our ultimate goal is to get you on wellness care that's tailored to how often your body needs to be checked to operate optimally. It's your decision to continue care, and we need to partner together to help you reach the highest levels of well-being.
Our Half-hour to Health Class
Our partnership is enhanced by your attendance at our new patient class, Half-hour to Health. If you're taking the time to invest in your health, we want you to be armed with the knowledge you need to stay healthy in between your visits to us. Your daily activities can have a devastating impact on your level of wellness, and this class will help you be aware of what you can do to improve it. Same-day appointments are available with extended hours for your convenience. Schedule your time with us today!

New Patients | (320) 251-1080